Recipe Image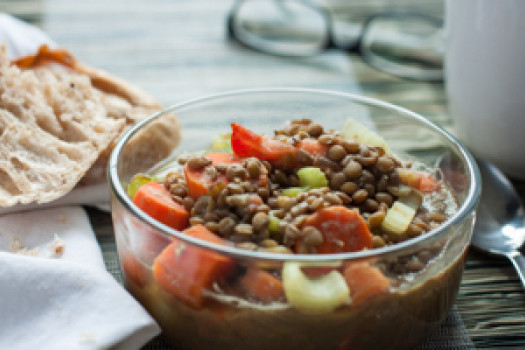 Lentils are a great variety of dried legume! They are full of protein, fiber, and nutrients like iron; have a great taste; and cook faster than dried beans because they do not require pre-soaking. Try them in this hearty stew for lunch or dinner.
Ingredients
2 tablespoons butter

(or margarine)

1 cup onion

(chopped)

6 cups water
2 cups lentils

(dry, washed, soaking not necessary)

1 teaspoon Worcestershire sauce
1/2 teaspoon oregano
1/4 teaspoon garlic powder
6 carrots

(large, cut into 1/2-inch pieces)

8 celery stalks
1 teaspoon salt
1 can whole tomatoes

(16 ounce, cut into pieces or 3-4 fresh tomatoes cut in wedges)
Directions
1. Melt butter in a large skillet.
2. Sauté onion until tender.
3. Add water, lentils, Worcestershire sauce, oregano, and garlic powder.
4. Cover, bring to a boil. Reduce heat, and simmer for 45 minutes.
5. Add carrots, celery, and salt.
6. Cover and simmer 30 minutes more or until the vegetables are tender.
7. Add tomatoes. Heat thoroughly and serve.
 
Source:
Go With Beans
University of Wisconsin Cooperative Extension Service
Eau Claire County