Recipe Image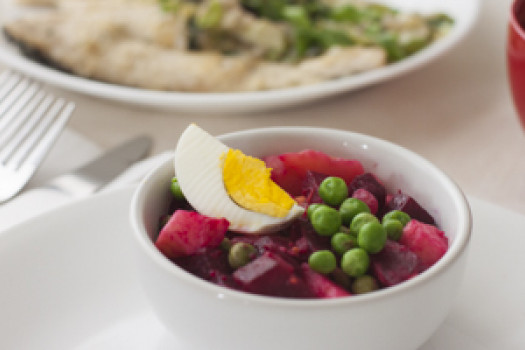 Pretty in pink! Enjoy this colorful and flavorful salad at a picnic or cookout with family and friends.
Ingredients
4 potatoes

(washed and cut in half)

3 cups beets, cooked

(peeled and diced)

1 cup peas, green, fresh or frozen
3 eggs, hard boiled
1 apple
1 teaspoon lemon juice
2 tablespoons olive oil
3 tablespoons vinegar
1 tablespoon sugar
Directions
Wash hands with soap and water.
Boil the potatoes in 2 cups of water in a deep kettle. Cover and cook over moderate heat for about 20 minutes, until the potatoes are tender.
When thoroughly cool, dice potatoes and place in a big bowl.
Add diced beets and mix with the potatoes.
Set aside 1/4 cup of peas for garnishing and add the rest to the bowl.
Save 1 egg to use as a garnish. Chop the rest and add to the bowl.
Peel the skin off the apple and remove the core. Cut the apple into small pieces, place in a small bowl, and sprinkle with lemon juice. Add apple to the salad.
Add the vinegar, olive oil, and sugar.
Mix thoroughly. Chill and serve.
Notes
Source:
From the Farm to the Table
University of Connecticut Cooperative Extension
Hispanic Health Council