Recipe Image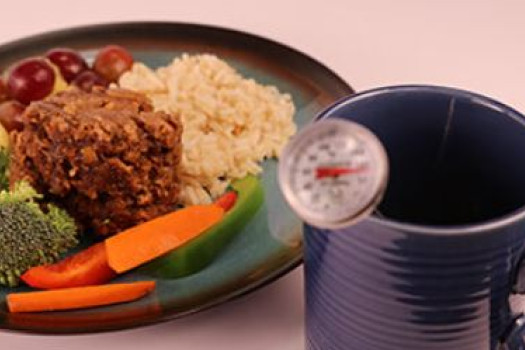 Enjoy this flavorful meatloaf without ever turning on your oven. This delicious single serving meal can be prepared in the microwave.
Ingredients
1/4 pound ground beef, 85% lean (or leaner)
2 tablespoons oatmeal
1 tablespoon ketchup
2 teaspoons milk, 1%
1 teaspoon dry onion mix
Directions
Wash hands with soap and water.
Combine all ingredients and stir to mix.
Spray microwave-safe mug with cooking spray.
Pat beef mixture into mug. Make a small hold in center, all the way to the bottom.
Microwave on HIGH (100%) for 3 minutes or until done.
Notes
Cooking time will increase if more than one meat loaf is placed in the microwave at a time.
Leftover dry onion mix can be used as a seasoning for baked or microwaved vegetables.
Food Safety Note: Cook until the internal temperature is 160 °F when measured with a meat thermometer.
Source:
Spend Smart. Eat Smart.
Iowa State University Extension