Recipe Image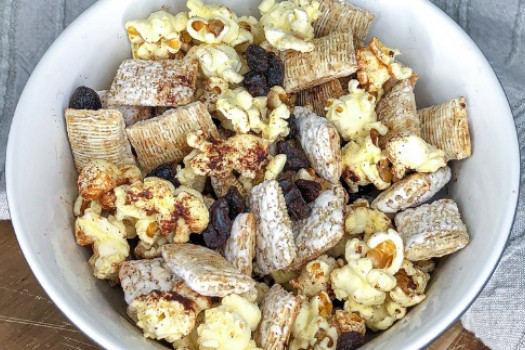 A great snack for adults and kids. A crunchy and sweet treat, enjoy this snack by yourself or double the recipe and share it with a group of friends.
Ingredients
2 tablespoons margarine

(melted, or butter)

5 cups popcorn

(popped)

3/4 cup raisins
1 cup shredded wheat

(bite-size)

1 tablespoon sugar

(brown or white)

1 1/4 teaspoons cinnamon
Directions
Pop popcorn.
Mix popped corn, raisins, and cereal in a large bowl.
Mix sugar and cinnamon in small dish.
Drizzle melted margarine or butter over mixture.
Add sugar and cinnamon mixture.
Shake or stir until all ingredients are evenly distributed.
Source:
Montana State University Extension
Nutrition Education Programs