Grilled Shrimp with Cantaloupe Avocado Salsa
Recipe Image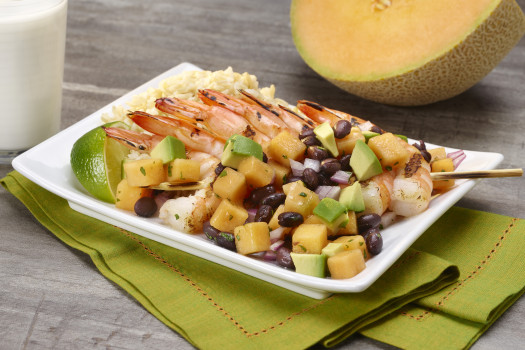 Preparation Time:
30 minutes
Savory sweet salsa featuring cantaloupe and avocado is the perfect complement to grilled shrimp.
Ingredients
For the salsa:
1 lime

(divided 1/2 for salsa, 1/2 for garnish)

1 avocado, cubed
2 cups diced cantaloupe
1/4 cup chopped red onions
1 cup unsalted canned black beans, drained and rinsed
1/4 teaspoon salt
1/8 teaspoon black pepper
2 tablespoons chopped fresh cilantro
For the shrimp:
1 pound large or jumbo shrimp, uncooked
1 tablespoon canola oil
1 clove diced garlic
4 bamboo skewers
Directions
Preheat grill.
Slice lime in half. In a small bowl, squeeze juice from one half of lime; reserve other half for garnish.
Add remaining salsa ingredients and gently mix.
Peel shrimp, leaving the tails on.
Skewer shrimp on bamboo skewers.
In a small dish mix together canola oil and garlic. Coat shrimp with oil-garlic mix.
Grill 4 to 5 minutes or until cooked.
To serve, top shrimp with salsa, garnish with lime wedges.
Notes
Source:
Produce for Better Health