Lemon Pepper Salmon Patties
Recipe Image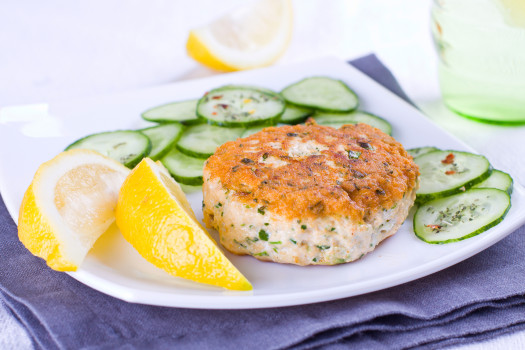 With a mix of flaked salmon, breadcrumbs, mayonnaise, and egg, a simple fillet transforms into a tasty pan-seared patty! 
Ingredients
3/4 cup breadcrumbs
1/4 cup reduced fat mayonnaise
1 egg, slightly beaten (can also use dried egg mix)
1/2 teaspoon lemon pepper
7 ounces frozen salmon, thawed, drained, and finely chopped (optional to remove the skin)
Cooking spray
Directions
Wash hands with soap and water.
Mix breadcrumbs, mayonnaise, egg, and lemon pepper in a medium bowl. Add salmon and mix.
Measure 1/3 cup of salmon mixture(packed) and form into a round patty. Repeat until you have five salmon patties.
Spray a skillet with cooking spray and set stove to medium heat.
Place the salmon patties in the skillet and cook until light brown, 5–7 minutes. Flip the patties and cook on the other side until brown. Salmon should reach a final internal cook temperature of 145°F as measured with a food thermometer before serving.
Source:
Recipe adapted from Chickasaw Nation Nutrition Services, Get Fresh Initiative