Recipe Image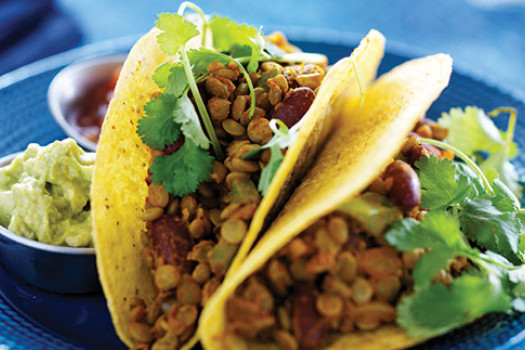 Lentils and raisins are an surprising and delicious duo in these sweet and savory tacos. Green peppers add extra flavor and texture. Enjoy with a tossed salad on the side.
Ingredients
1 1/2 cups dry lentils

(sorted and rinsed)

4 cups water
1/2 green pepper

(chopped)

4 cloves garlic

(minced)

hot pepper flakes

(1/2 teaspoon, optional)

1 teaspoon chili powder
1 teaspoon cumin
1/2 teaspoon basil
2/3 cup tomato paste, low-sodium
1/4 cup raisins (optional)
Directions
Wash hands with soap and water.
Cook lentils in 3 cups water for 10 minutes.
Add remaining ingredients and simmer for 30 minutes. Add more water if necessary.
Serve with corn tortillas. Can also be served over rice or noodles.
Notes
Alternate seasoning: 2 tablespoons taco seasoning instead of the other spices.
Learn more about:
Source:
Washington State WIC Program