Pasta with Chickpeas, Tomato, and Spinach
Recipe Image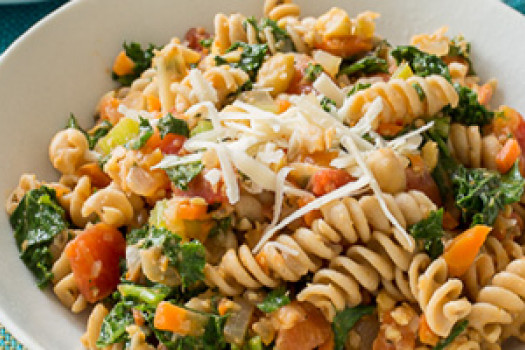 Preparation Time:
20 minutes
Chickpeas, tomatoes, spinach and a hint of rosemary make this delicious pasta dish. Served warm with a sprinkle of Parmesan, this quick and easy recipe makes a perfect weeknight meal.
Ingredients
1 small yellow onion

(peeled and chopped into 1/4 pieces)

8 ounces medium-size whole-wheat pasta

(such as rotini or shells)

1 tablespoon vegetable oil
2 cloves garlic

(peeled and minced)

2 carrots

(scrubbed and diced into 1/4-inch pieces)

1 celery stalk

(diced into 1/4-1/2-inch pieces)

1/2 teaspoon dried rosemary
1 can 16-ounce low sodium chickpeas

(drained and rinsed with cold water)

1 can 14.5-ounce low-sodium diced tomatoes

(including the liquid)

2 cups spinach

(washed and chopped)

1/2 teaspoon chopped red pepper flakes

(optional)

1/4 cup grated Parmesan cheese
Directions
To cook the pasta, fill the pot halfway with water. Bring it to a boil over high heat. When the water is boiling, add the pasta and cook until just tender, about 12 minutes. Just before draining, reserve 1 ½ cups of the pasta water. Drain the pasta and set aside.
While the pasta is cooking, cook the sauce: Put the skillet on the stove over medium-low heat and when it is hot, add the oil. Add the garlic, onion, carrots, celery, and rosemary and cook until the garlic is golden, about 15 minutes. 
Add the chickpeas and using the fork, lightly mash half of them. Add the reserved pasta water and tomatoes and cook 10 minutes.
Add the pasta and spinach to the skillet mixture and cook until the spinach is tender and most of the liquid has been absorbed by the pasta, about 10 minutes. Add the red pepper flakes, if desired.
Mix well and serve immediately, garnished with Parmesan cheese.
Notes
Kale can be used instead of spinach.
Source:
USDA Center for Nutrition Policy and Promotion