Simply Satisfying Kale and Tuna Salad
Recipe Image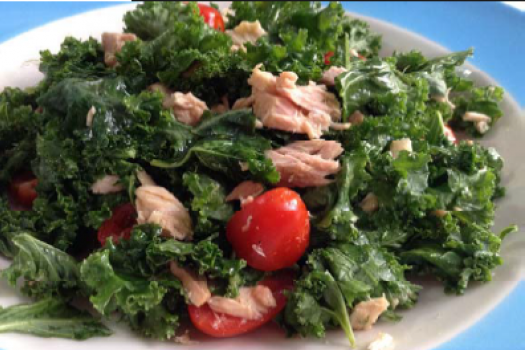 Preparation Time:
15 minutes
Even the youngest junior chefs love massaging the kale in this simple salad recipe, which adds canned tuna, tomatoes and homemade dressing for a refreshing dish.
Ingredients
2 cans tuna

(2-5 oz. cans)

1 bunch kale

(or 1 bag)

2 ounces cherry tomatoes
1 lemon, raw
1/4 cup extra virgin olive oil
1/8 cup balsamic vinegar
kosher salt

(to taste)

freshly ground pepper

(to taste)
Directions
Wash kale. Set aside to drain water off.
Cut tomatoes in half and lightly toss in bowl with balsamic vinegar, oil and pinch of salt and pepper. Set aside.
In a salad bowl, mix tuna and juice from the can gently with squeeze of 1/2 lemon and a pinch of pepper.
Massage kale for about 3 minutes to soften it.
Add the kale and 1/2 the tomatoes to the tuna, and gently toss until all is coated with dressing.
Add remaining tomatoes.
Squeeze remaining lemon all over and serve.
Source:
Seafood Nutrition Partnership