Recipe Image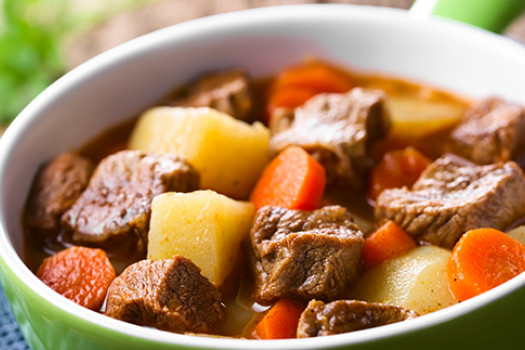 Prepare this in the morning and let it cook all day, so that you can enjoy a healthy and hearty dinner as soon as you walk in the door. 
Ingredients
2 pounds stew meat

(cut into 1 inch cubes)

1/4 cup flour

(all purpose)

salt and pepper

(optional, to taste)

2 cups water
2 teaspoons beef bouillon

(2 cubes)

1 garlic clove

(finely chopped)

3 carrot

(sliced)

3 potatoes

(diced)

1 onion

(chopped)

1 celery stalk

(sliced)

Add herbs as desired: bay leaf, basil, oregano, etc

(optional)
Directions
Wash hands with soap and water.
Place meat in slow cooker.
Mix flour, salt, and pepper in a medium bowl, and pour over meat; stir to coat.
Add remaining ingredients and stir to mix.
Cover and cook on LOW for 8 to 10 hours or HIGH for 4 to 6 hours.
Stir stew thoroughly before serving. If using bay leaf, discard before serving.
Source:
Montana State University Extension Service.