Chicken Apple Salad Sandwich
Recipe Image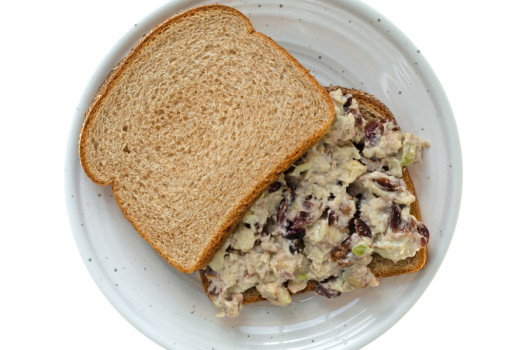 Celery and apple give a delightful crunch to this easy to make sandwich filling.
Ingredients
1/4 pound cooked, shredded chicken
1 chopped celery

(1 stalk)

1 chopped apple, medium
1/3 cup light mayonnaise
1 lemon, juiced
1 small box (1 1/2 oz) raisins
8 slices whole wheat bread
chopped walnuts

(1 cup, optional)
Directions
Wash hands with soap and water.
Combine all ingredients except for bread together in a bowl.
Create 4 sandwiches on whole wheat bread.
Notes
Source:
Simple Healthy Recipes
Oklahoma Nutrition Information and Education
ONIE Project