Recipe Image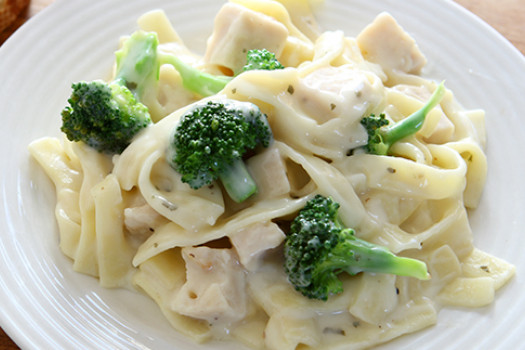 Broccoli brings brightness to this recipe, while the Basic Soup and Sauce Mix gives this recipe a rich and creamy flavor.
Ingredients
8 ounces fettuccine noodles
1 cup broccoli, fresh or frozen
16 ounces chicken breast, boneless
2 tablespoons butter
1 Basic Sauce Mix

(1/3 cup dry recipe)

1 1/4 cups water
1/2 cup milk, non-fat
1/2 cup Parmesan cheese

(grated)

1/4 pepper

(1/4 teaspoon, optional)
Directions
1. Cook fettuccine according to package directions. Add broccoli for the last 4 minutes of cooking time. Drain.
2. Heat butter in skillet. Add chicken and cook until browned, stirring often.
3. Combine sauce mix and water in saucepan. Bring to a boil and cook until thick. Add milk, cheese, pepper and fettuccine mixture and heat through.
4. Serve with additional Parmesan cheese.
 
Source:
Utah State University Cooperative Extension