Recipe Image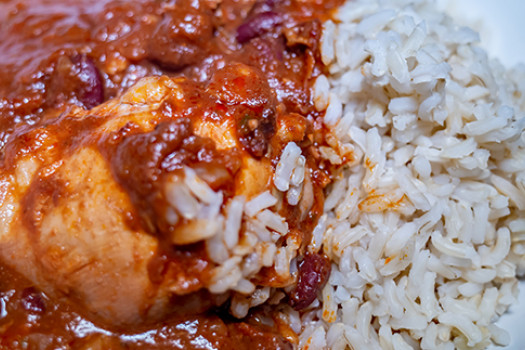 Chili powder, cocoa, garlic powder, and peanut butter make a traditional Mexican chicken dish. Serve it with brown rice for a mid-week dinner.
Ingredients
1 chicken

(fryer, cut into pieces, skin and fat removed)

5 cups water
4 tablespoons chili powder
1 teaspoon oregano
1 teaspoon cocoa, unsweetened
10 tablespoons flour
1 teaspoon black pepper
1 teaspoon garlic powder
1 cup water
1 tablespoon peanut butter

(creamy)

1/4 cup water
Directions
Wash hands with soap and water.
Place chicken in a large pot with the 1/4 cup of water. Cover and simmer until tender, about 45 minutes.
In a medium bowl, mix chili powder, oregano, cocoa, flour (1/2 cup plus 2 tablespoons), pepper, and garlic powder along with 1 cup of water.
Add mixture from step 2 to chicken in pot; mix well.
Add peanut butter and 5 cups of water to chicken in pot; mix well.
Bring to a boil.
Reduce heat to medium. Cook for 10 to 15 minutes.
Stir and serve immediately.
Source:
Pictorial Recipes
Oregon State University Cooperative Extension Service
Oregon Family Nutrition Program
Recipe submitted by Lynn Myers Steele, 2000