Five Happiness Fried Noodles
Recipe Image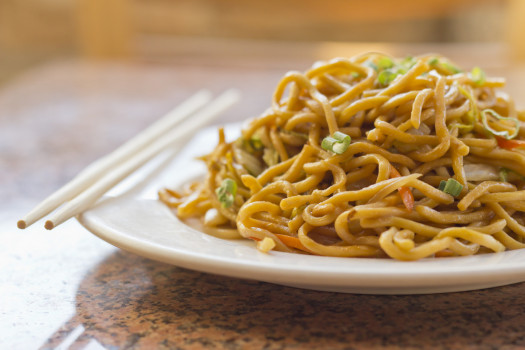 Enjoy carrots, bamboo shoots, mushrooms, bean sprouts, and green onions with fried noodles and a simple sauce.
Ingredients
10 cups water
1 pound egg noodles
1 tablespoon olive oil

(or vegetable oil, divided)

3 cups bean sprouts
1 cup bamboo shoots

(julienned sliced thinly in strips)

1/2 cup carrots

(shredded)

2 dried shiitake mushrooms (or about 1/2 cup, soaked, stems removed, and julienned)
2 green onions
1/2 teaspoon salt
1 teaspoon sugar
1 tablespoon soy sauce, reduced sodium
Directions
Wash hands with soap and water.
In a large pot on high heat, bring 10 cups of water to boil. Cook noodles in boiling water until tender or "al-dente," approximately 5 - 7 minutes, drain and set aside.
Heat a non-stick wok or pan over high heat. Add 1/2 tablespoon oil, swirling to coat the pan, add noodles and pan-fry until noodles are golden, about 7 to 10 minutes. Remove noodles from wok.
Add remaining 1/2 tablespoon oil to wok, add vegetables, and stir-fry until just cooked, about 5 to 7 minutes.
Return noodles to the wok, add salt, sugar and soy sauce.
Stir to combine and serve.
Source:
EatFresh
California Department of Social Services