Recipe Image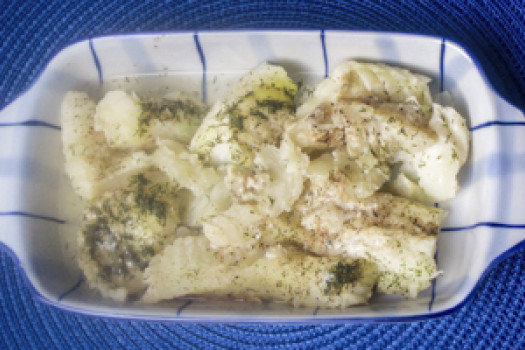 Use fish fillets from the freezer in this recipe to make a quick, weeknight seafood dinner.
Ingredients
1 pound haddock or cod fillets

(frozen)

1 tablespoon lemon juice
1/8 teaspoon dill weed

(dried)

1/8 teaspoon salt
black pepper

(optional)
Directions
Microwave Method:
1. Thaw frozen fish in refrigerator overnight or thaw in microwave oven. Then, separate into 4 fillets or pieces
2. Place fish in a glass-baking dish. Cover with wax paper.
3. Cook at "medium" power in the microwave for 3 minutes. Remove cover, turn fish over, and sprinkle with lemon juice and seasonings.
4. Cover and continue cooking at "medium" power for 3 minutes or until fish flakes with a fork.
Skillet method:
1. Separate into four fillets or pieces.
2. Place fish in heated fry pan. Sprinkle with lemon juice and seasonings.
3. Cover and cook over moderate heat until fish flakes when tested with a fork, about 5 minutes.
Source:
Microwave Recipes
University of Illinois Extension Service