Recipe Image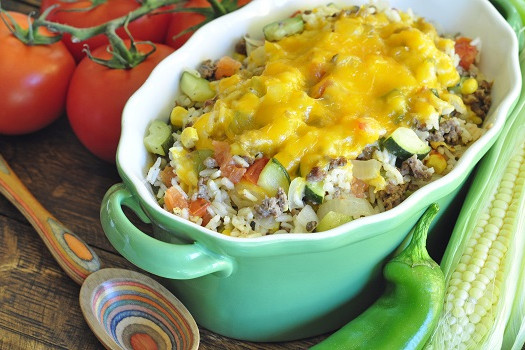 Add your favorite vegetables and any lean ground meat to create this easy dish.
Ingredients
1 pound 90% lean ground beef

(or other ground meat)

1/2 cup onion

(chopped, or 1 Tbsp onion powder)

1 can whole corn

(14 ounce, or any canned vegetable, drained)

4 tablespoons taco seasoning mix

(dry, or dry enchilada sauce)

2 cups rice, cooked

(brown)

1/2 cup cheese

(grated)

1/2 mushrooms, olives or any favorite vegetable

(sliced, optional)
Directions
1. Cook meat and onion until onion juices are clear.
2. Drain juice and fat from cooked meat and onions.
3. Add corn, taco seasoning, and rice.
4. Simmer for 10 minutes.
5. Add grated cheese to top; cover and let set for 5 minutes.
6. Refrigerate leftovers within 2 hours.
Source:
Food Hero
Oregon State University Cooperative Extension Service