Recipe Image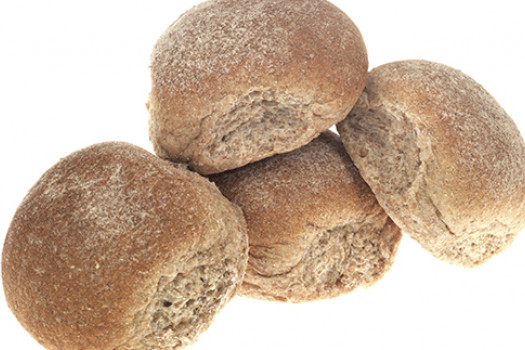 Whole wheat flour increases the fiber in these dinner rolls. Dough can be used immediately or stored in the refrigerator for several days until you are ready to bake it.
Ingredients
4 cups flour, whole wheat
3/4 cup flour, all-purpose
1 1/4 tablespoons yeast, dry active
1 cup non-fat dry milk powder
1 1/2 cups warm water
1/3 cup oil
3 tablespoons sugar (or honey)
2 eggs, large (or 4 egg whites)
1 teaspoon salt
Directions
Wash hands with soap and water.
Mix 2 1/2 cups whole wheat flour, dry yeast, and non-fat dry milk in large mixer bowl. Add water, oil, and sugar (or honey). Mix well 1 to 2 minutes.
Turn off mixer, cover, and let dough sit for 10 minutes.
Add eggs and salt. Turn on mixer. Add remaining flour, 1 cup at a time, until dough begins to form a ball.
Knead for 5 to 6 minutes. Dough should be very soft and manageable. Stiff dough produces heavy, dry rolls. If dough stiffens while mixing, drizzle a little warm water over dough as it kneads.
Dough may be used immediately or covered and stored in the refrigerator for several days.
Lightly oil hands and counter top if needed. Shape immediately into rolls. Let rise until very light.
Bake at 350 °F for 18 to 20 minutes. Do not overbake.
Source:
USDA Supplemental Nutrition Assistance Program (SNAP)