Recipe Image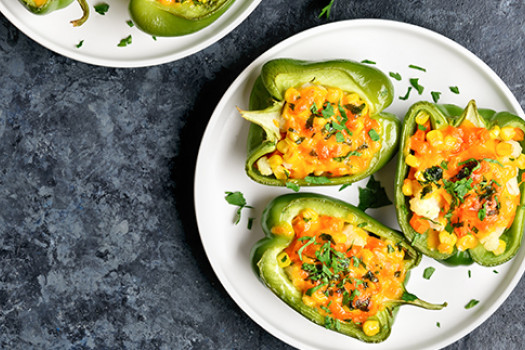 Delicious stuffed peppers that will soon become a staple in your home. 
Ingredients
5 green bell pepper

(medium, halved and seeded, or use red or yellow peppers)

1/3 cup onion

(chopped)

1 1/2 garlic clove

(chopped)

3 cups brown rice, cooked
1 can tomatoes with chiles

(10 1/2 ounce, diced and undrained)

1/2 can whole kernel corn

(8 1/2 ounce, drained)

vegetable cooking spray
1/3 cup cheese, cheddar, shredded
Directions
Wash hands.
Blanch peppers in boiling water 2 to 3 minutes. Drain. Set aside.
Cook onion and garlic in oil in medium skillet over medium high heat for 3 minutes.
Combine rice, tomatoes with chiles, corn and onion mixture. Mix well.
Spoon into pepper halves, place on baking sheet coated with cooking spray.
Bake at 350 degrees for 10 minutes or until hot. Sprinkle with cheese.
Bake again at 350 degrees for 5 to 10 minutes or until hot and cheese melts.
Source:
Arizona Nutrition Network
Don't Play With Your Food: Spring and Summer Cookbook