Recipe Image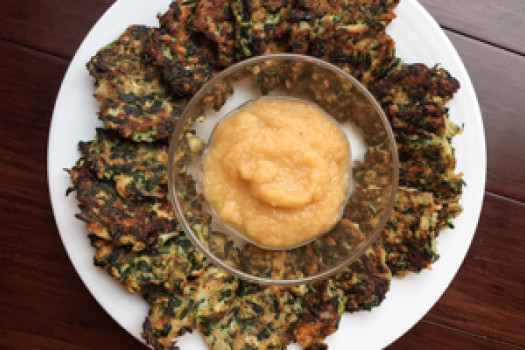 This versatile veggie dish makes a tasty snack or appetizer. Serve with applesauce on the side.
Ingredients
2 cups zucchini, shredded
1 potato, medium (peeled and shredded)
1/4 cup onion, finely chopped
1/4 teaspoon salt
1/4 cup whole wheat flour
1 1/2 cups spinach leaves

(chopped and steamed)

1/2 teaspoon black pepper
1/4 teaspoon ground nutmeg
1 egg, beaten
applesauce

(optional)
Directions
Wash hands with soap and water.
Combine the first eight ingredients in a bowl.
Stir in egg and mix well.
Drop batter by 1/4 cup-fuls onto a well-greased hot griddle and flatten to form patties.
Fry until golden brown; turn and cook until the second side is lightly browned. Drain on paper towels and serve with applesauce, if desired.
Source:
University of Maine Cooperative Extension