Recipe Image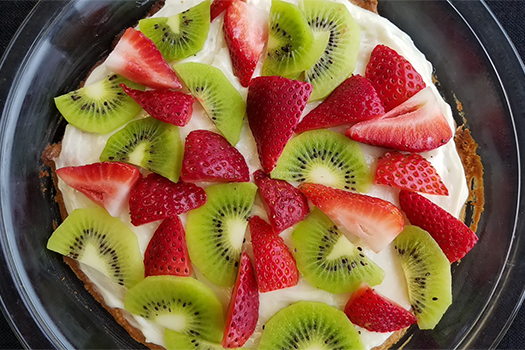 The crust for this dessert cooks in the oven and is covered with a cream cheese mix and topped with strawberries. For variety, try using any combination of colorful fruits.
Ingredients
Cookie Crust
1/2 cup margarine
1/2 cup sugar
1 teaspoon vanilla extract
1 egg
2 cups flour, all-purpose
2 teaspoons baking powder
Cheese Spread
8 ounces cream cheese, nonfat

(or light)

1/2 cup sugar
1 teaspoon vanilla extract
Directions
Wash hands with soap and water.
Preheat oven to 375 °F.
For crust, cream margarine, sugar, vanilla, and egg until light and fluffy. Add flour and baking powder, mixing well.
Spread mixture about 1/8 inch thick on a pizza pan, baking sheet, or 9x13 inch pan.
Bake for 10 to 12 minutes or until lightly browned. Cool.
For spread, mix together cream cheese, sugar, and vanilla. Spread on cooled cookie crust.
Arrange fruit on top of pizza. Refrigerate until serving time.
Notes
Fruit Topping Ideas: Sliced Strawberries, kiwi, bananas, pineapple, mandarin oranges, pears, peaches, blueberries, or grapes.
Learn more about:
Source:
Kansas Family Nutrition Program