Recipe Image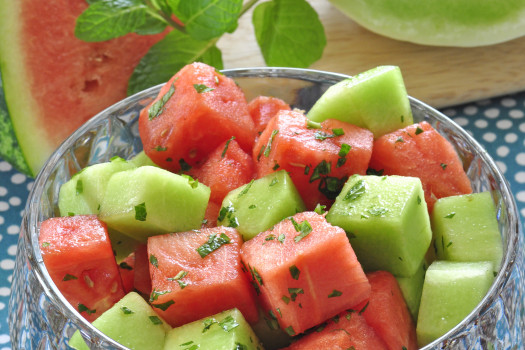 Preparation Time:
15 minutes
In the mood for a refreshing snack? The combination of mint and lime on this fruit makes it a refreshing treat.
Ingredients
1 tablespoon lime juice
1/4 cup fresh mint leaves
6 teaspoons packed brown sugar (2 tablespoons)
3 cups watermelon cubes
3 cups honeydew cubes
Directions
Wash hands with soap and water.
Blend lime juice, mint leaves, and brown sugar together in a small food processor.
Place melon cubes in a bowl. Drizzle dressing over melon and toss gently.
Notes
Try with other types of melon such as cantaloupe or crenshaw melons.
Try omitting the brown sugar and adding crumbled feta cheese.
Learn more about:
Source:
Food Hero
Oregon State University Cooperative Extension Service