Recipe Image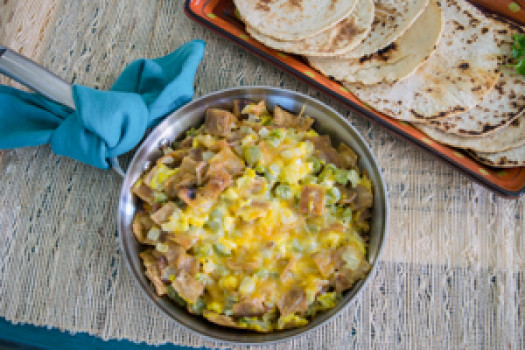 Eggs, tortillas, pepper, onion, and cheese are a tasty combination in this quick and easy recipe. 
Ingredients
4 tortillas

(large)

3 tablespoons canola oil
1/4 cup bell pepper
1/4 cup onion
4 egg

(lightly beaten)

4 tablespoons cheddar cheese, low-fat

(grated)
Directions
Wash hands with soap and water.
Tear tortillas into small pieces.
Heat oil in a medium-sized pan.
Add tortillas and stir until pieces begin to brown.
Add peppers and onion; sauté until soft.
Add eggs; stir until the eggs are cooked.
Remove from heat and sprinkle on the grated cheese.
Cover the pan and let cheese melt.
Serve immediately.
Source:
The Texas A&M University System
Texas Cooperative Extension Expanded Nutrition Program