Peanut Butter and Apple Wraps
Recipe Image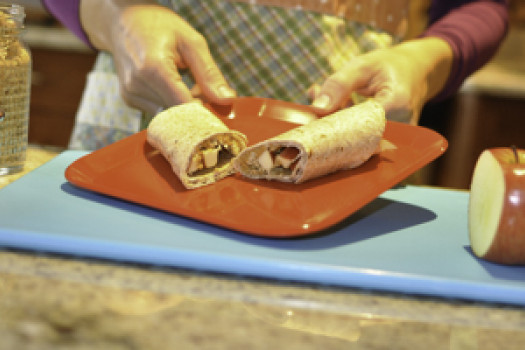 Quick, filling, and delicious, these wraps can be made in a flash and enjoyed right away or packed away for lunch at school or work.  
Ingredients
1 whole wheat tortilla

(8 inch)

1/4 cup peanut butter, reduced-fat
2 tablespoons granola cereal
1/2 apple, sliced

(suggest Red Delicious apple)
Directions
1. Lay tortilla flat and spread peanut butter over 2/3 of the tortilla leaving edges at sides
2. Sprinkle 2 Tablespoons granola over peanut butter.
3. Cut apple slices into small chunks and place them on top of the granola.
4. Fold over the edges of the tortilla and roll up "burrito style"
5. Eat and Enjoy.
Notes
This recipe could use other apples - Golden Delicious, Granny Smith or Fuji; however, Red Delicious apples are the crispiest and their flavor balances the savory taste of the peanut butter.
The combination of fruit, granola, and peanut butter makes this snack packed with protein, iron, fiber, and calcium; the whole wheat tortilla and reduced-fat peanut butter keep it lower in fat.
Watch how to make this kid-friendly recipe on YouTube. 
Learn more about:
Source:
CSAAC (Community Services for Autistic Adults and Children)