Recipe Image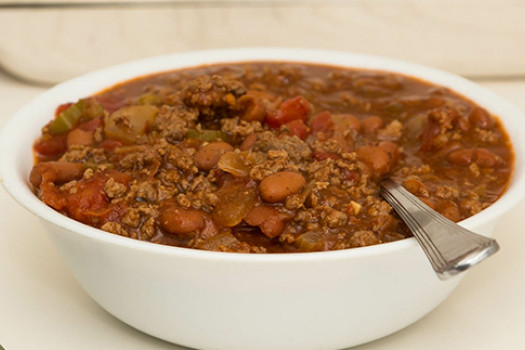 Canned or pureed pumpkin adds a hearty and nutritious flavor to this savory chili recipe.
Ingredients
2 teaspoons olive oil
1 small yellow onion

(chopped)

1 green bell pepper

(cored, seeded and chopped )

2 jalapeño peppers

(seeded and finely chopped)

2 cloves garlic

( finely chopped or 1/2 teaspoon garlic powder )

1 pound ground turkey
1 can diced tomatoes with juice
1 can pumpkin puree
1 cup water
1 teaspoon cumin, ground
salt and pepper (to taste, optional)
1 can kidney beans

(Can choose other beans if desired.)
Directions
1. Heat oil in a large pot over medium high heat.
2. Add onion, bell pepper, jalapenos and garlic and cook, stirring frequently until tender, about 5 minutes.
3. Add turkey and cook until browned.
4. Add tomatoes, pumpkin, water, chili powder, cumin, salt and pepper and bring to a boil.
5. Reduce heat to medium low then add beans.
6. Cover and simmer, stirring occasionally, for 30 minutes more.
7. Ladle chili into bowls and serve.
Source:
Bronson Wellness Center