Recipe Image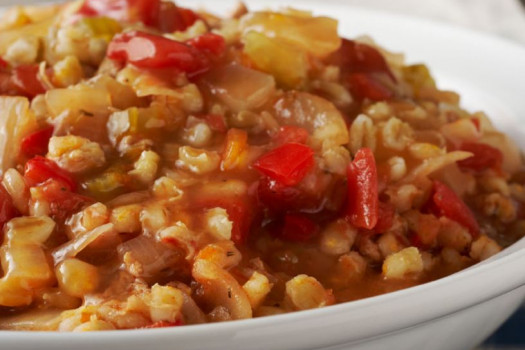 Preparation Time:
25 minutes
Ingredients
1 cup instant pearl barley
4 cups water
2 whole bay leaves
3 medium onions
2 small celery stalks
1 cup diced green, red, yellow, or orange bell pepper
2 medium cloves garlic
1 tablespoon canola oil
4 ounces ground turkey
2 (14.5-oz) cans diced tomato

(no salt added)

1 teaspoon salt
1/2 teaspoon ground cayenne pepper
1 1/2 teaspoons dried oregano
1 teaspoon ground black pepper
Directions
In Advance:
In a colander, rinse barley under cold water.
In a medium pot over high heat, bring barley, water, and bay leaves to a boil. Reduce heat to low and cover. Cook barley until tender and water is absorbed, about 20-30 minutes.
In a colander, drain barley. Set aside.
Preparation:
Peel, rinse, and dice onions. Rinse and dice celery and pepper. Peel and mince garlic.
In a large pot over medium-high heat, heat oil.
Add onions, celery, pepper, and garlic to pot. Mix well. Cook until veggies are soft, about 5 minutes.
Add ground turkey. Cook until internal temperature registers 165 °F on a food thermometer, about 5 minutes more.
Add tomatoes and their juices. Bring to a simmer.
Add spices. Stir to combine. Cover and reduce heat. Cook at a low simmer for 15 minutes.
Add cooked barley to the mixture. Stir to combine. Add more water or broth, if needed. Cook over low heat to bled flavors, about 5-10 minutes more.
Remove bay leaves and serve.
Notes
To save time, cook barley up to 2 days in advance. Refrigerate until ready to use. Add to pot in step 7 above. Or, use another whole grain you have made in advance, like brown rice.
When doubling this recipe, do not double cayenne pepper unless you prefer a very spicy dish.
For a vegetarian option, use cooked or canned pinto or black beans, rinsed and drained, in place of meat.
Materials: You will need a can opener, colander, cutting board, large pot with lid, measuring spoons, medium pot with lid, mixing spoon, and a sharp knife.
Learn more about:
Source:
Meeting Your MyPlate Goals on a Budget
MyPlate National Strategic Partners Toolkit