Braised Chicken Thighs with Spinach
Recipe Image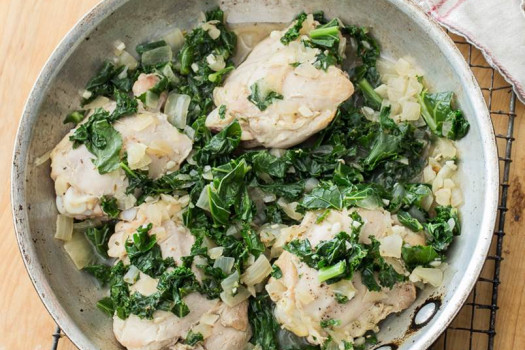 Cook Time:
1 hour 10 minutes
Chicken thighs are cooked until golden brown then simmered in a rich onion, garlic, thyme, and rosemary sauce with tender spinach.
Ingredients
4 6-ounce bone in chicken thighs

(skin removed)

1 teaspoon vegetable oil
1 teaspoon salt
1/2 teaspoon black pepper
1 small yellow onion

(peeled and chopped)

3 cloves garlic

(peeled and minced)

1 teaspoon dried thyme
1/2 teaspoon dried rosemary
1 cup water
1 package 10-ounce frozen spinach

(or 1 bunch fresh spinach)
Directions
Heat skillet over medium-high heat. Add 1 teaspoon oil. Add chicken, top side down. Cook about 8 minutes on each side, or until deeply browned. Remove the chicken to a dinner plate and set aside.
Reheat skillet over medium heat. Add the onion, garlic, thyme, and rosemary. Cook about 5 minutes, until the onion is soft and golden. Return the chicken to the pan.
Add the water, and cover. Continue cooking for about 30 minutes.
Add frozen spinach and cook for about 10 minutes. Or, add the fresh spinach and cook about 2 minutes, until it wilts. Serve right away.
Source:
USDA Center for Nutrition Policy and Promotion