Recipe Image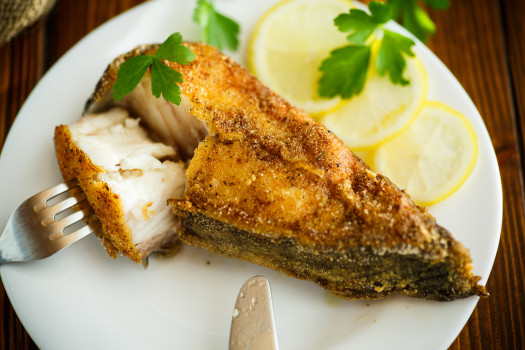 Catfish is breaded with cornmeal and baked in the oven for a healthier way to add flavor and crunch! 
Ingredients
Cooking spray
1/4 cup cornmeal

(about 4 tablespoons)

1/2 tablespoon paprika
1/2 teaspoon garlic powder
1/2 teaspoon onion powder
1/2 teaspoon oregano
1/4 teaspoon black pepper
3/4 teaspoon lemon pepper seasoning, no salt added
1/8 teaspoon salt
1 pound catfish fillets, frozen, thawed, drained
Directions
Wash hands with soap and water.
Preheat oven to 400°F. Spray a baking sheet with cooking spray.
Combine cornmeal and spices in a shallow dish.
Dip each fillet in the cornmeal mixture. Coat evenly.
Place fillets on a baking sheet.
Bake 20–25 minutes flipping catfish halfway through. Catfish should reach a final internal cook temperature of 145 F as measured with a food thermometer before serving.
Notes
This recipe contains one or more ingredients considered to be traditional or indigenous to Native American communities in certain regions across North America. 
Source:
Recipe adapted from Chickasaw Nation Nutrition Services, Get Fresh Initiative