Recipe Image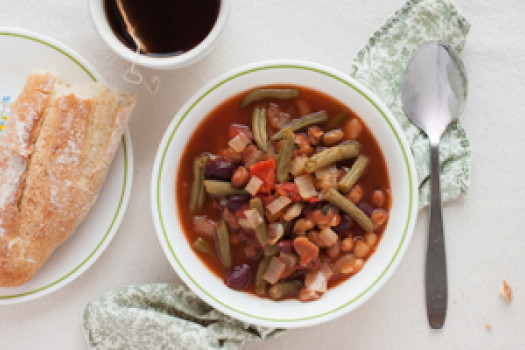 Three beans combine with savory vegetables in a rich, tomato-based broth for this Italian Bean Soup. Served with a whole wheat roll, this recipe makes a satisfying and wholesome lunch or dinner.
Ingredients
1 can great northern beans

(15 ounce)

1 can red kidney beans

(15 ounce)

2 cans pinto beans

(15 ounce)

46 us fluid ounces tomato juice

(or V-8 juice)

1 can Italian style or stewed tomatoes

(15 ounce, low sodium)

1 can vegetable broth, low-sodium

(15 ounce)

1 can green beans

(15 ounce, drained)

1 1/2 tablespoons Italian seasoning
1 onion

(medium, chopped)

1/4 teaspoon black pepper
2 garlic clove

(fresh)
Directions
1. In a large pot, combine all ingredients.
2. Cover and simmer for 30 minutes.
3. Serve with Italian or French bread or whole-wheat rolls.
 
Notes
Freeze leftovers in plastic sealed containers with 1/2-inch air space under the lid.
Learn more about:
Source:
Choices: Steps Toward Health
University of Massachusetts
Extension Nutrition Education Program