Recipe Image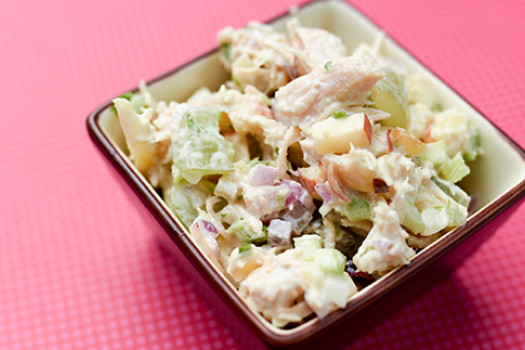 This main dish is a combination of chicken, vegetables, and fruit. Enjoy it as a cold salad or as the filling of a hearty sandwich or wrap.
Ingredients
2 cups cooked chicken

(chunked)

1/2 cup celery
1/4 cup green pepper
1/4 onion
1/2 cucumber
1/2 cup grapes, seedless
1 apple

(small, diced, leave the peel on)

1/4 cup yogurt, plain, low-fat
Directions
Wash hands with soap and water.
Use leftover cooked chicken, or cook enough chicken to make 2 cups of chicken pieces.
Chop the celery and green pepper into small pieces.
Peel and chop 1/4 of an onion.
Peel and chop half of a cucumber.
Chop the apple into pieces. It's okay to leave the peel on the apple.
Cut the grapes in half.
Put all the ingredients in a large bowl. Stir together.
Notes
Source:
Pennsylvania Nutrition Education Network