Chicken Soup for the Soul
Recipe Image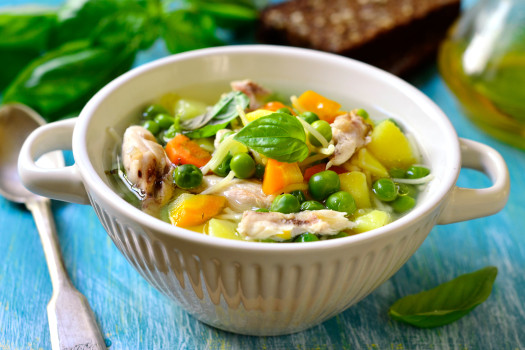 Green peas and carrots brighten up this traditional chicken soup! 
Ingredients
1 stalk of celery, chopped
1 carrot, chopped
1 onion, chopped
1 cup frozen peas
5 1/2 cups of low-sodium chicken broth
1 cup cooked chicken, cubed, or canned (drained)
1/2 cup uncooked rice, macaroni, or small noodles
Directions
Wash hands with soap and water.
Combine celery, carrots, onions, peas, and chicken broth in a pot. Bring to a boil.
Add chicken and reduce heat.
Add rice, macaroni, or noodles.
Simmer on low until rice, macaroni, or noodles are tender and flavors are mixed. Chicken should reach a final internal cook temperature of 165°F as measured with a food thermometer before serving.
Source:
Recipe adapted from First Nations Development Institute