Turkey and Cucumber Sandwich
Recipe Image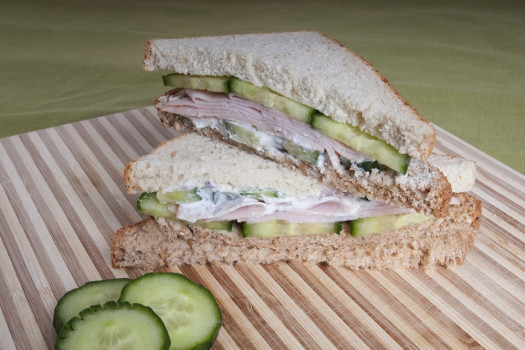 These sandwiches, flavored with herbs and spices, are sure to hit the spot. With whole grains, lean protein, and dairy, this well-rounded, MyPlate meal will keep you satisfied all afternoon. 
Ingredients
4 slices whole wheat bread
4 slices enriched white bread
1/2 cup plain fat free yogurt
2 fresh dill sprigs

(chopped)

1/2 cup cucumbers, chopped
1/4 cup onion, chopped
1/8 teaspoon black pepper
8 ounces turkey breast, thinly sliced

(or you can use fat free, low-sodium deli turkey)

Additional cucumber slices, as desired
1/8 teaspoon salt

(optional)
Directions
Mix the yogurt, dill, onion, pepper and chopped cucumbers.
Divide the yogurt/cucumber 

mixture on all 8 slices of bread.

Top the whole wheat bread with turkey and cucumber slices.

Cover with the white bread slices.
Source:
The "Grain Chain," a group of MyPlate National Strategic Partners committed to promoting and supporting grains, offers a series of recipes featuring whole grains. Members include American Bakers Association, Wheat Food Council, Grains Food Foundation, National Pasta Association, USA Rice Federation, General Mills, and Kellogg's.