Recipe Image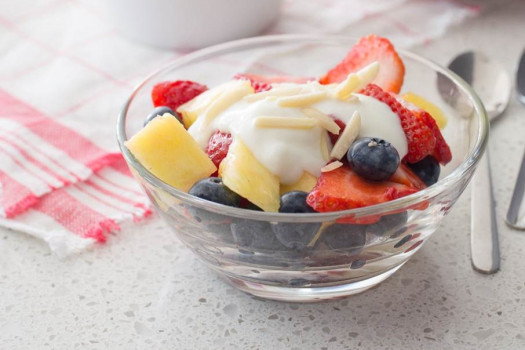 Preparation Time:
25 minutes
This colorful salad combines sliced strawberries, pineapple chunks, and blueberries coated in pineapple juice. Serve topped with low-fat yogurt and slivered almonds for a treat that looks as good as it tastes.
Ingredients
2 cups strawberries

(sliced)

1 cup blueberries

(rinsed)

1 cup pineapple chunks

(canned, or fresh)

3 tablespoons pineapple juice
2 cups plain low-fat yogurt
1/8 cup almonds

(sliced or slivered )
Directions
Place fruit in a large bowl and mix with pineapple juice. Let stand for 15 minutes at room temperature.
Place 1 cup of fruit salad in a small bowl and top with 1/2 cup of yogurt.
Sprinkle almonds on top of each fruit salad. Serve immediately.
Notes
Any 100% fruit juice can be used instead of pineapple juice.
Learn more about:
Source:
USDA Center for Nutrition Policy and Promotion