Orange Honeyed Acorn Squash
Recipe Image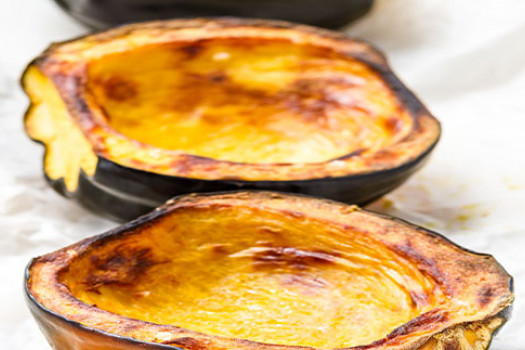 Orange juice, honey, butter, and spices are the perfect pairing for acorn squash.  Enjoy this recipe with your favorite protein foods. 
Ingredients
3 acorn squash

(small)

1/8 cup orange juice

(2 Tablespoons)

1/4 cup honey
2 tablespoons butter or margarine
nutmeg

(1/8 teaspoon, optional)
Directions
1. Preheat oven to 400 degrees.
2. Cut squash in half. Remove seeds and place halves in shallow baking pan.
3. Combine orange juice and honey. Mix well. Put some of the orange juice/honey mixture in each squash cavity.
4. Add 1 Tablespoon of the margarine to each squash half. Sprinkle with nutmeg, if desired.
5. Cover pan with aluminum foil to keep steam in and speed cooking.
6. Bake 30 minutes. Remove foil and continue baking 30 minutes more, or until squash is tender.
Source:
University of Wyoming, Cooperative Extension, Cent$ible Nutrition Cook Book, p. FV-37