Recipe Image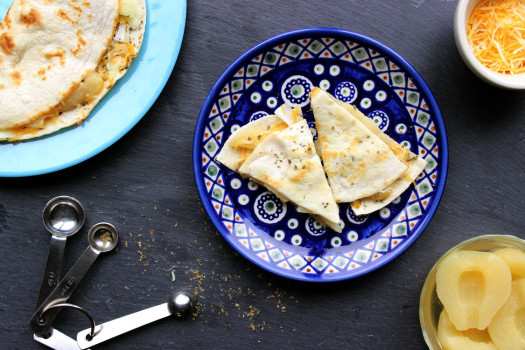 Preparation Time:
10 minutes
An easy way to add more fruit to your day is to incorporate them into your meals. Canned pears and cheese go well together in this quesadilla, with lots of added flavor from basil, onion, and pepper jack cheese.
Ingredients
2 wheat tortillas

(8" diameter)

1/2 cup shredded pepper jack cheese
1/2 cup shredded mozzarella cheese
1 tablespoon dried basil
2 tablespoons chopped onion
2 canned pear halves

(sliced thin)

2 teaspoons olive oil
Directions
Sprinkle cheese, onion, and dried basil on half of each tortilla.
Place pear slices on top of other ingredients in each tortilla.
Brush each side of folded tortillas with olive oil.
Heat each folded tortilla in a non-stick skillet until cheese melts, about 2 to 3 minutes on each side.
Cut quesadilla into four pieces and serve immediately.
Source:
Center for Nutrition Policy and Promotion