Pumpkin Mac & Cheese for One
Recipe Image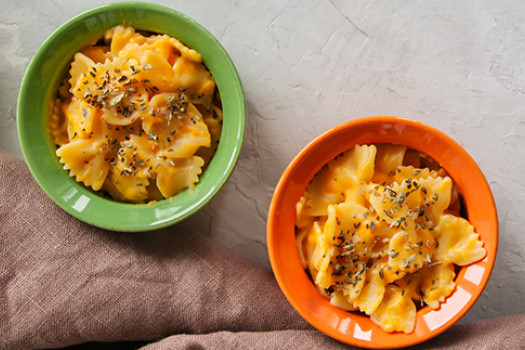 To make this dish even faster, use leftover cooked pasta, preferably whole grain, to make this meal in under 5 minutes. 
Ingredients
3/4 cup cooked pasta

(in any shape)

1 1/2 tablespoons cheddar cheese soup

(from can)

1/8 cup pumpkin puree
1 1/2 tablespoons milk, 1%
1 tablespoon cheese, low-fat
1 teaspoon deli mustard
Directions
Stir the "wet" ingredients (soup, pumpkin puree, milk, and mustard), and heat in microwave for 45-60 seconds; stir again until creamy.
Add cooked pasta to cream and sprinkle cheese on top. Heat another 30-45 seconds or until cheese melts.
Notes
Low-fat cheddar cheese used in nutrition analysis and for costing purposes.
Why add pumpkin? Adding pumpkin mixture in addition to the cheese soup lowers the total calories and boosts nutritional fiber and Vitamin A.
Learn more about:
Source:
CSAAC (Community Services for Autistic Adults and Children)