Recipe Image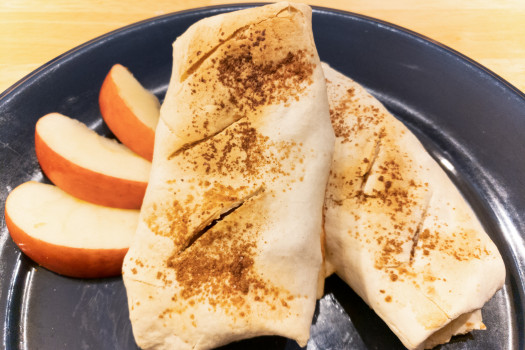 A fun recipe to make with kids. Use your favorite fruit and whole grain tortillas, and enjoy!
Ingredients
4 flour tortillas

(8 inch)

2 peaches, pears, or apples

(medium)

1/4 teaspoon cinnamon

(ground)

6 teaspoons brown sugar, packed
1/8 teaspoon nutmeg

(ground)

2 tablespoons milk

(fat-free)

sugar

(optional)
Directions
1. Warm tortillas in microwave or oven to make them easier to handle.
2. Peel and chop fruit into pieces.
3. Place 1/4 of the fruit on half of each tortilla.
4. In a small bowl, stir together brown sugar, cinnamon and nutmeg. Sprinkle over fruit.
5. Roll up the tortillas, starting at the end with the fruit.
6. Place on an greased baking sheet and make small slashes to allow steam to escape. Brush with milk and sprinkle with additional sugar, if desired.
7. Back at 350 degree in oven for 8-12 minutes or until lightly brown.
8. Serve warm or cool.
Notes
Source:
Kansas State University Cooperative Extension