Strawberries, White Bean, and Edamame Salad
Recipe Image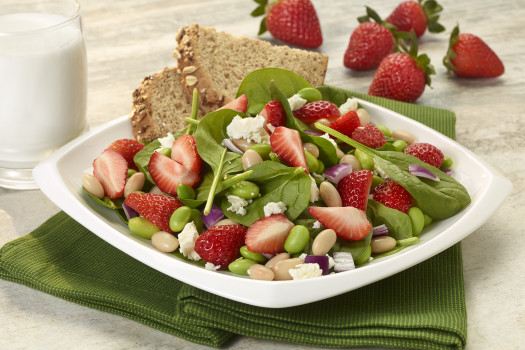 Preparation Time:
30 minutes
A flavorful, enticing, mix of fresh strawberries, white beans, and edamame in a light vinaigrette, nested on a baby spinach and topped with crumbled feta cheese.
Ingredients
For the vinaigrette:
1 1/2 cups strawberries
1 1/2 tablespoons extra virgin olive oil
2 tablespoons balsamic vinegar
1/4 cup apple juice
1/4 teaspoon salt
1/8 teaspoon pepper
For the Salad:
1 1/2 cups shelled edamame
1 can low sodium white beans

(drained and rinsed; 15 oz can)

1/2 cup red onion

(chopped)

2 tablespoons chopped fresh basil
1/2 cup crumbled feta cheese
6 cups baby spinach
Directions
Cook edamame according to package directions, while preparing remaining ingredients.
Rinse under cool water and drain. 
In a small bowl, whisk vinaigrette ingredients. 
In a medium bowl, toss all ingredients except spinach and vinaigrette. 
Serve on individual plates by nesting strawberry, white bean and edamame mix atop spinach.
Drizzle with dressing. 
Source:
Produce for Better Health Foundation