Recipe Image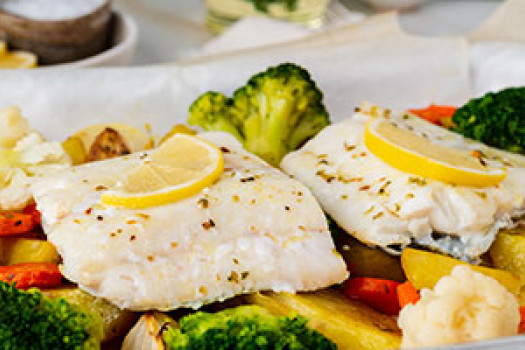 Herbs and spices give this fish lots of flavor for an easy weekday meal.
Ingredients
1 pound cod fillets

(fresh or frozen)

1/4 teaspoon paprika
1/4 teaspoon garlic powder
1/4 teaspoon onion powder
2 dashs pepper

(1/8 teaspoon)

1/4 teaspoon oregano

(dried)

1/4 teaspoon thyme

(dried)

1 tablespoon lemon juice
1 1/2 tablespoons margarine

(melted)
Directions
1. Thaw frozen fish according to package directions, if using frozen fillets.
2. Preheat oven to 350 F.
3. Separate fish into four fillets or pieces.
4. Place fish in ungreased 13" x 9" baking dish.
5. Combine paprika, garlic powder, onion powder, pepper, oregano, and thyme in a small bowl.
6. Sprinkle seasoning mixture and lemon juice evenly over fish.
7. Drizzle margarine evenly over fish.
8. Bake until fish flakes easily with a fork, about 20-25 minutes.
 
Source:
Bronson Wellness Center
Bronson Healthcare - Michigan