Recipe Image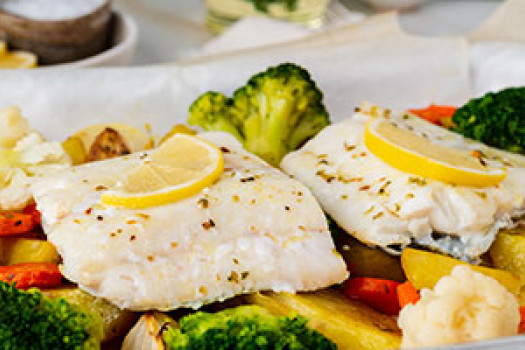 Herbs and spices give this fish lots of flavor for an easy weekday meal.
Ingredients
1 pound cod fillets

(fresh or frozen)

1/4 teaspoon paprika
1/4 teaspoon garlic powder
1/4 teaspoon onion powder
1/8 teaspoon ground black pepper
1/4 teaspoon oregano

(dried)

1/4 teaspoon thyme

(dried)

1 tablespoon lemon juice
1 1/2 tablespoons margarine

(melted)
Directions
Wash hands with soap and water.
Thaw frozen fish according to package directions, if using frozen fillets.
Preheat oven to 350 °F.
Separate fish into four fillets or pieces.
Place fish in ungreased 13x9 baking dish.
Combine paprika, garlic powder, onion powder, pepper, oregano, and thyme in a small bowl.
Sprinkle seasoning mixture and lemon juice evenly over fish.
Drizzle margarine evenly over fish.
Bake until fish flakes easily with a fork, about 20-25 minutes.
Source:
Bronson Wellness Center
Bronson Healthcare - Michigan