Recipe Image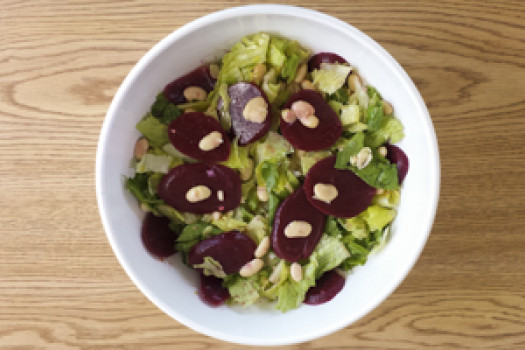 This salad is full of protein and nutrients thanks to its bright beets and cooked beans.
Ingredients
1/4 cup lemon juice (or vinegar)
1 garlic clove, finely chopped
2 teaspoons mustard
salt and pepper

(to taste, optional)

2 tablespoons vegetable oil
2 cups sliced cooked beets

(fresh or low-sodium canned)

1 head of lettuce (washed and torn into pieces)
2 cups cooked beans, rinsed

(any kind)
Directions
Wash hands with soap and water.
To make dressing, combine lemon juice, garlic, mustard, oil, salt and pepper (optional) in a large bowl.
Place the sliced beets in a small bowl. Toss 1 tablespoon of the dressing with the beets to coat.
Toss the greens and beans with the remaining dressing in the large bowl.
Place onto plates and top with beets.
Source:
University of Maryland Cooperative Extension
Food Supplement Nutrition Education Program