Roasted Chickpeas (Garbanzo Beans)
Recipe Image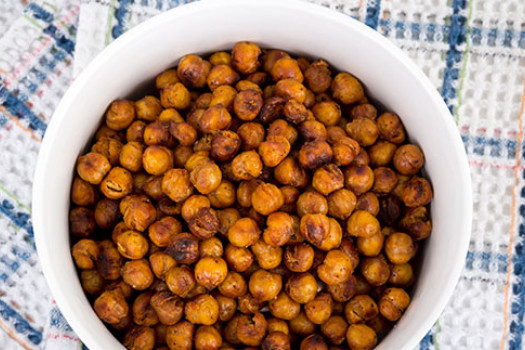 These crunchy chickpeas make a great on-the-go snack or a healthy topping to your favorite salad. Experiment with different spices to see which ones you like best.
Ingredients
1 can (16 oz) garbanzo beans

(drained and rinsed)

1 tablespoon canola oil
1/8 teaspoon salt
spices of your choice

(try garlic, paprika, sage, etc.)
Directions
1. Preheat oven to 400 degrees F.
2. Drain and rinse the beans until there is no foamy residue. Pick out the skins and discard. Wrap the drained beans in a clean towel to dry thoroughly.
3. Measure oil into a 9 x 13 baking dish or foil lined pan. Pour beans into dish, sprinkle with salt and spices. Mix oil and spices well to coat all the beans.
4. Bake for 45-60 minutes, stirring or shaking every 15 minutes. Longer makes more crunch, but watch to prevent burning!
Notes
Cool thoroughly before storing in a tightly covered container. Eat by the ¼ cup handful, or sprinkle on salads and other dishes for a nice crunch! Optional: Sprinkle with Parmesan cheese during the last 10 minutes of baking- don't do this earlier, as it can cause chickpeas to burn.
Source:
USDA Supplemental Nutrition Assistance Program (SNAP)