Recipe Image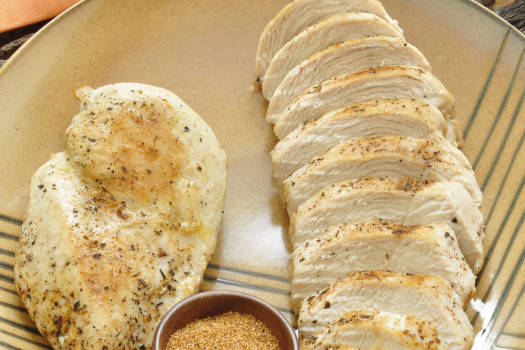 Preparation Time:
5 minutes
You only need a few simple ingredients to create this delicious, tender chicken. This recipe will yield the perfect chicken every time. Pair with your favorite vegetable to make a meal.
Ingredients
1 chicken breast, about 1-inch thick
1 tablespoon vegetable oil
seasoning, such as salt, pepper, seasoning salt, onion powder or garlic powder

(optional)
Directions
Wash hands with soap and water.
Season the chicken. In a lightly oiled skillet over medium-high heat, sauté the chicken for one minute on each side until lightly browned.
Cover the skillet with a tight-fitting lid. Reduce the heat to low. Cook for 10 minutes. Do not lift the lid.
Turn off the heat. Let the chicken rest for 10 minutes. Do not remove the lid.
The chicken is safely cooked when the internal temperature is at least 165 degrees F. Check in the thickest part with a food thermometer. If not done, cover and return to low heat for 3 to 5 minutes and check for doneness.
Source:
Food Hero
Oregon State University Cooperative Extension Service