Recipe Image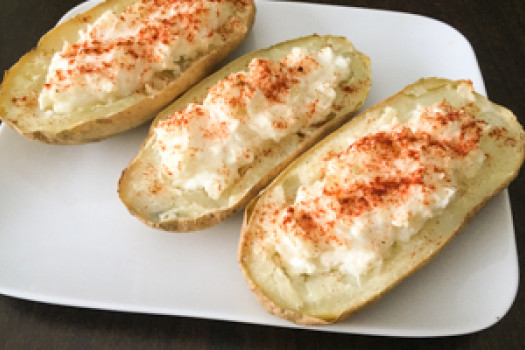 These potatoes are light and fluffy on the inside and baked twice to give a crunchy crust.
Ingredients
4 potatoes

(large, baking)

1 cup cottage cheese, low-fat
2 tablespoons 1% milk
2 tablespoons onion

(chopped)

1/4 teaspoon paprika
Directions
Wash hands with soap and water.
Preheat the oven to 400 °F.
Scrub the potatoes.
Put the potatoes in the oven. Bake 30 to 40 minutes until tender.
Slice each potato in half lengthwise.
Use a spoon to scoop out the inside of each potato. Leave about 1/2 inch of potato next to the skin. Save the inside part of each potato in a small bowl.
Peel the onion. Chop it to make 2 tablespoons chopped onion.
Put the cheese, milk, and onion in another small bowl. Add the insides of the potatoes. Mix with a fork until light and fluffy.
Divide this mix into 8 parts. Put part of the mix inside each potato.
Sprinkle paprika over the potatoes.
Return to the oven for 5 minutes to reheat.
Source:
Pennsylvania Nutrition Education Network