Recipe Image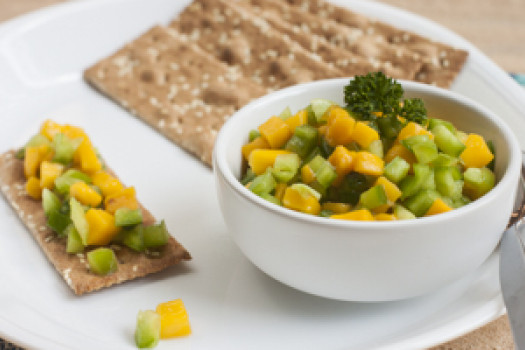 Preparation Time:
10 minutes
The sweetness of fresh mango combined with savory pepper and onion and the zest of lime give this salsa a balance of flavors that are refreshing and crisp. Serve this appetizer with baked tortilla chips or whole grain crackers for a tasty snack.
Ingredients
1 mango

(peeled and chopped)

1/4 cup chopped green bell pepper
1 green onion, chopped
1 lime, juiced

(1-2 tablespoons)
Directions
Wash hands with soap and water.
Peel and chop the mango, be sure to remove the seed.
Cut the pepper and onion into small pieces.
Mix all the ingredients together.
Source:
Iowa Department of Public Health
Iowa Nutrition Network