Recipe Image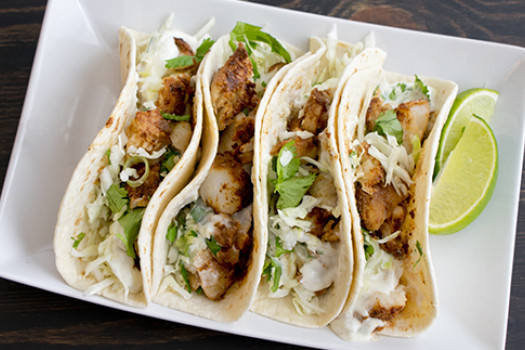 Fish tacos are a fun way to add fish to your meal. Cabbage from the coleslaw mix gives some crunch and extra nutrients.
Ingredients
1 red onion, chopped
1/2 cup cilantro, chopped
1 cup packaged coleslaw mix
4 4-ounce tilapia fillets

(or any white fish)

8 small corn tortillas
1 teaspoon chili powder

(more or less to taste)
Directions
Wash hands with soap and water.
Clean and chop onion, cilantro, and cabbage. Mix in a bowl and set aside.
Coat the baking sheet with cooking spray. Lightly sprinkle fish fillets with chili powder and place on the baking pan.
Place in the oven about 6 inches from the broiler and cook for approximately 3 to 4 minutes, or until fish is fully cooked. You will know the fish is done when it "flakes" or pulls apart easily when separated with a fork.
Lightly fry tortillas on an oiled griddle or skillet, or heat tortillas in the microwave oven for just a few seconds until softened and hot.
Fill tortilla with fish, cabbage, onion, and cilantro and fold in half. Serve with salsa and citrus slices, if desired.
Source:
Oklahoma Nutrition Information and Education
ONIE Project