Recipe Image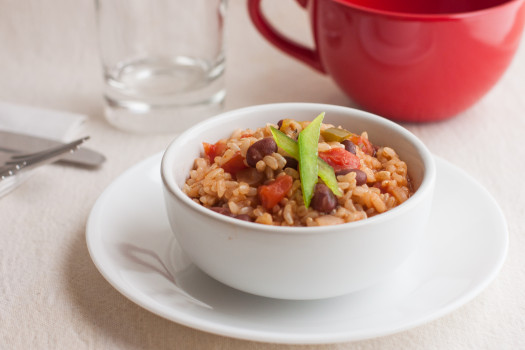 This quick one skillet casserole dish of beans, bell peppers, tomatoes, and oregano uses instant brown rice to reduce cooking time.
Ingredients
1 onion

(medium, chopped)

1/2 green pepper

(diced)

1 tablespoon canola oil
1 can (14.5 ounces) stewed tomatoes, low-sodium
1 can (15.5 ounces) black beans, low sodium

(or beans of your choice)

1 teaspoon oregano leaves
1/2 teaspoon garlic powder
1 1/2 cups brown rice

(instant, uncooked)
Directions
Wash hands with soap and water.
Sauté onion and green pepper in canola oil, in a large pan, until tender. Do not brown.
Add tomatoes, beans (include liquid from both), oregano, and garlic powder. Bring to a boil.
Stir in rice and cover.
Reduce heat to simmer for 5 minutes.
Remove from heat and let stand for 5 minutes.
Source:
Heart Healthy Home Cooking: African American Style
US Department of Health and Human Services
National Heart, Lung, and Blood Institute