Recipe Image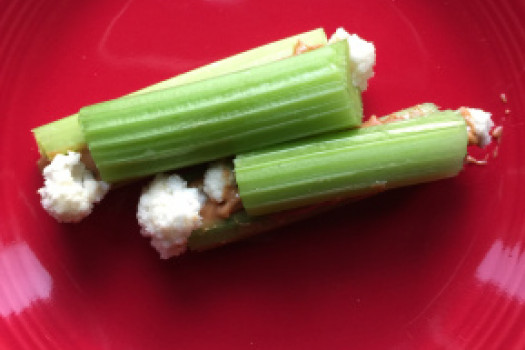 A cute and easy way to get kids excited about eating their veggies!
Ingredients
2 celery stalks (each piece cut in half lengthwise)
4 small cauliflower florets (cut in half)
2 tablespoons peanut butter
Directions
Wash hands with soap and water.
Place one piece of celery in center of plate with the center facing up.
Use a butter knife to spread peanut butter on top edges.
Place second piece of celery on top, forming a log. Cut log in half.
Repeat steps 1-3 with remaining 2 pieces of celery.
Place cauliflower florets on ends of each log, securing with remaining peanut butter.
Enjoy your Hiding Rabbits.
Notes
Adults: If this recipe is being prepared by children, use a sharp knife to cut off the ends of celery, cut each celery stalk in half, and cut the cauliflower floret in half.
Learn more about:
Source:
Eagle Adventure Recipes
Chickasaw Nation Get Fresh! Nutrition Education Program
Eagle Adventure Team