Macaroni & Cheese with Broccoli
Recipe Image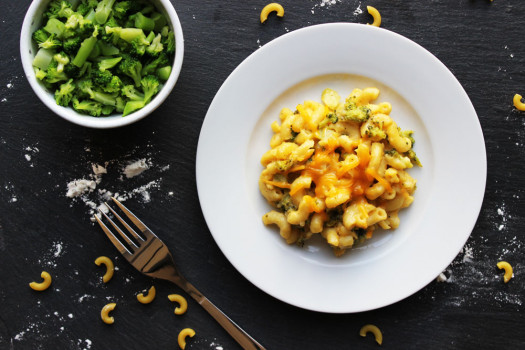 Preparation Time:
5 minutes
Broccoli gives flavor, texture, and nutrients to this creamy spin-off of the traditional mac and cheese dish. Try this with roasted squash or sweet potatoes in the fall or winter, roasted beets in the spring, or a tomato salad in the summer for a meal with tasty seasonal veggies!
Ingredients
2 cups uncooked elbow macaroni
4 tablespoons flour
2 cups milk

(1%, low fat)

2 cups cheddar cheese, low-fat shredded
1/2 teaspoon black pepper
2 cups broccoli

(cooked and chopped)
Directions
Wash hands with soap and water.
Cook macaroni, following the instructions on the package.
Drain the cooked macaroni and return to the pan.
While the macaroni is still warm, sprinkle in the flour and stir thoroughly.
Over medium heat, slowly stir the milk into the macaroni.
Add the cheese and pepper.
Stir over medium heat until the milk and cheese thicken into a creamy sauce, approximately 7-10 minutes.
Stir in the broccoli; heat thoroughly.
Taste; add a small amount of salt, if needed.
Refrigerate leftovers.
Notes
Fresh or frozen broccoli can be used
Learn more about broccoli.
Source:
Colorado State University and University of California at Davis.
Eating Smart Being Active Recipes.