Recipe Image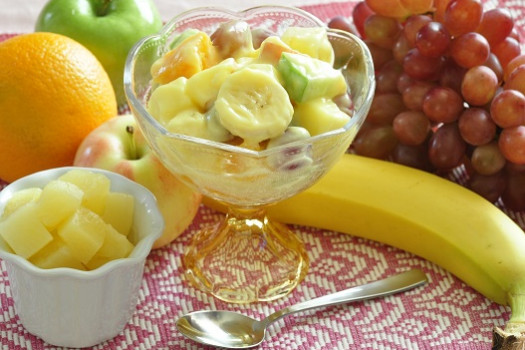 The whole family will love making this as much as they love eating it! Pineapple, grapes, and bananas add flavor and texture to this creamy and delicious dessert.
Ingredients
1 can pineapple chunks, juice packed

(20 ounce)

1 cup grapes, seedless -- red or green
2 bananas
1 3/4 cups milk, non-fat or low-fat
1 package pudding mix, instant -- lemon or vanilla

(3 1/2 ounce)
Directions
Wash hands with soap and water.
Drain off the juice. Put chunks in a large bowl.
Rinse the grapes and drain. Add the grapes to the bowl.
Peel the bananas and cut into bite-sized pieces. Add to the bowl.
Pour the milk over the fruit. While slowly stirring the fruit mixture, sprinkle in the pudding mix.
Let the mixture stand for 5 minutes and serve.
Refrigerate leftovers within 2 hours.
Source:
Food Hero
Oregon State University Cooperative Extension Service