Recipe Image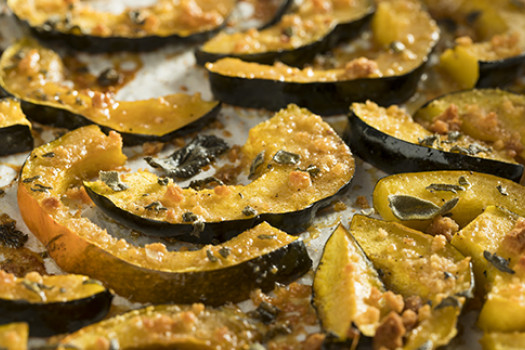 This side dish is perfect for a fall or winter meal. Squash cooked with cinnamon, nutmeg, and ginger creates a simple dish to accompany your favorite entrée.
Ingredients
vegetable cooking spray
1 acorn squash
1 dash salt
2 tablespoons margarine
9 teaspoons brown sugar

(3 Tablespoons)

1 teaspoon cinnamon
1/4 teaspoon nutmeg
1/4 teaspoon ginger
Directions
1. Preheat the oven to 400 degrees.
2. Coat the baking sheet with vegetable cooking spray.
3. Wash the squash. Cut it in half lengthwise. Remove the seeds. Cut the squash into 1/2 inch slices.
4. Place the squash on the baking sheet. Sprinkle with salt.
5. Melt the margarine on low heat in a small saucepan.
6. Add the brown sugar, cinnamon, nutmeg, and ginger to the saucepan.
7. Spread the margarine mix on the squash.
8. Bake for 20 to 25 minutes, or until tender.
 
Source:
Pennsylvania Nutrition Education Network