Recipe Image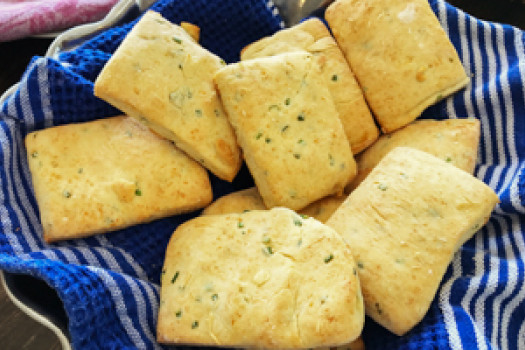 Enjoy these savory biscuits with your favorite holiday meal.
Ingredients
2 cups biscuit mix
2/3 cup 2% reduced fat milk
4 tablespoons butter, melted

(1/4 cup)

3/4 cup Parmesan cheese

(freshly grated)

1/2 tablespoon chives

(finely chopped, fresh)
Directions
Wash hands with soap and water.
Combine all ingredients in a large bowl.
Stir together to mix well. Do not over mix.
Turn out onto a floured board. Roll to a 1-inch thick square.
Cut into 12 squares. Bake on a cookie sheet, spaced slightly apart, in a 400° F oven for 12 to 15 minutes.
Source:
University of Arkansas Cooperative Extension Service
Expanded Food and Nutrition Education Program (EFNEP)